Professional Mold Removal Services
Remtech has been a professional mold removal company for over 20 years, treating and restoring homes and commercial properties in Raleigh and all across North Carolina.
Mold is a common fungus found nearly everywhere, both inside and outside your home.
But it grows, multiplies, and spreads very quickly — becoming a legitimate problem (and health concern) fast.
While most people think you can just kill mold, the truth is dead mold can have the same health effects as live mold.
Plus, excessive humidity and moisture in southern climates like ours here in North Carolina make you even more prone to a mold issue.
Suffered from symptoms such as sneezing, runny nose, or nasal congestion?
Recognized visible white, green, or black mold spores in your attic, basement, or crawl space?
Seen water stains, discoloration, or bubbling on your home's walls, ceilings, or floors?
Started to smell a damp, musty odor in your house?
If you answered yes to any of those questions, chances are you may have a mold problem in your home or property. 
CRAWL SPACE MOLD REMOVAL
Did you know that approximately 50% of your home's
indoor air comes from your crawl space?
Our crawl space mold removal experts can seal your crawl space to permanently keep out moisture, leaving your indoor air cleaner and healthier. Plus, Remtech's closed crawl spaces are the most energy-efficient, durable, and low-maintenance crawl space solutions on the market!
Remtech's Proven Process that Delivers Results
Plan the mold remediation strategy and adapt guidelines to fit the unique situation.
Select area containment equipment and mold removal team.
Remove the mold growth and remediate the affected area.
Find and resolve the source of excessive moisture.
Clean and dry moldy materials.
Discard moldy items that can't be cleaned.
4 REASONS WHY HIRING A PROFESSIONAL IS BEST:
1. EXPERIENCE:
We have decades of experience cleaning and restoring homes from every type of moldy situation. You can rest assured that we will know how to restore your home as well.
2. INSURANCE: We pay for the best insurance coverage to back our work and protect our customers: including general liability, worker's compensation, and specific environmental pollution liability insurance.
3. CERTIFICATIONS: Our mold removal experts not only go through continual training on mold remediation procedures and mold mitigation, but they're also certified by the Institute of Inspection, Cleaning and Restoration (IICRC).
4. EQUIPMENT: Simply put, a professional uses professional-grade equipment, from dehumidifiers and air scrubbers to High-Efficiency Particulate Air (HEPA) vacuums.
Get a free consultation:
If you have or suspect you have mold in your home don't wait to act. Let us equip you with the information to make the right decision for your family and property. Contact us to receive a free consultation or schedule an inspection.
Due to the health hazards and potential toxicity of mold, identification and removal should be performed by Remtech's certified mold remediation professionals. Because of our commitment to the safety of our clients, our mold specialists are highly trained to provide effective solutions in accordance with the latest OSHA and EPA regulations for commercial properties.
We serve all types of properties in North Carolina, including commercial buildings, distribution centers, industrial plants, malls, retail spaces, government facilities, transportation centers, condominiums, supermarkets, research facilities, hospitals and medical facilities, military bases, warehouse facilities, school, hotels and motels, restaurants, and churches.
If your commercial or industrial building is showing evidence of a mold contamination problem, Remtech is ready and able to help!
Identifying the cause and determining the source of the moisture problem is critical. Even if you can see mold with your own eyes, oftentimes there's more to be found deeper down, in subflooring or behind wallpaper, for example.
Proud to be providing mold removal services all over the NC area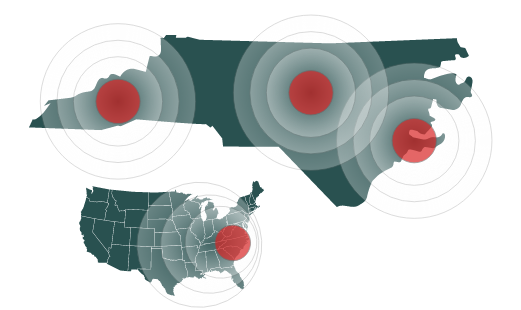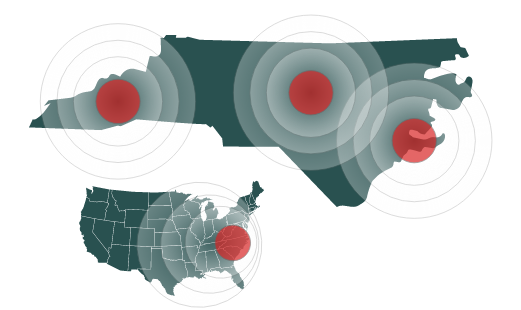 We've travelled as far as Nebraska, Texas, and the Cayman Islands to assist with large-scale disaster relief, but our main service areas since we started are North Carolina, South Carolina, and Virginia.
---
At Remtech Environmental, we offer mold removal services for customers in Raleigh, Durham, Cary, Asheville, Morrisville, Wake Forest, Wendell, Winston-Salem, and Greensboro, North Carolina.
Why Mold Removal is Not a DIY Job
At Remtech Environmental, we have seen the DIY videos circulating that discuss how easy it is to handle mold removal from your Raleigh, North Carolina property yourself, and we want to caution you to take that advice with a grain of salt. What most of them fail to explain is that dead mold can be just as hazardous to your respiratory system as live mold, so just killing it isn't enough. In addition, mold removal that doesn't follow strict safety protocols can result in spreading the mold spores and endangering your health. Finally, the vast majority of DIY mold removal advice is completely ineffective. For complete peace of mind, your best bet is leaving it to our professionals.
Similar Services We Offer: