Remtech Environmental is one of the pioneering companies of home and commercial environmental services and has remained an industry leader for over 20 years. Our services span mold removal to asbestos removal, Structural Drying, Dehumidification as well as water damage repair services for homeowners and commercial property owners. Doing the job right is more than a matter of professional pride, it is about the health and safety of the families that use the homes, offices, facilities that we restore.
Our managers and technicians are some of the most knowledgeable and most certified professionals in the industry. We have restored properties across the country and beyond, and we approach every job like it's for our own family and home.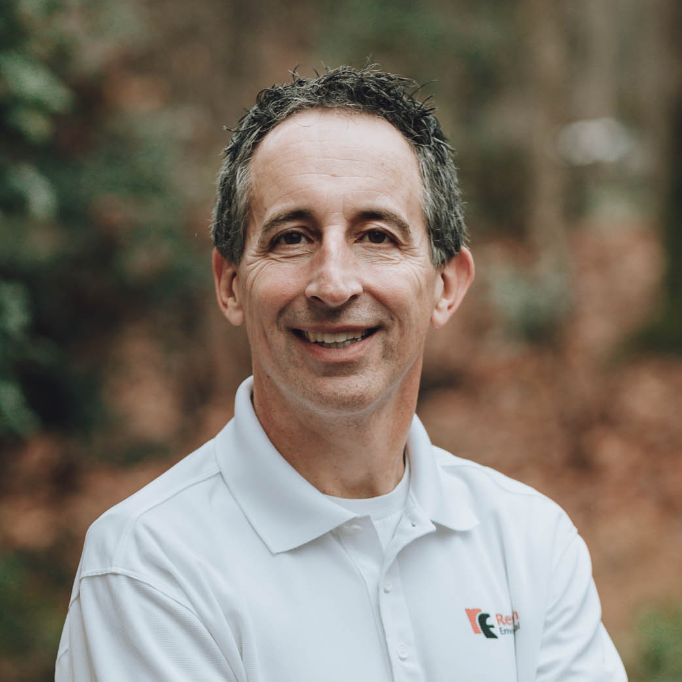 BRYAN KING
Owner
With an engineering degree from NCSU and 10 previous years of environmental experience, Bryan started Remtech Environmental 20 years ago to serve both the residential and commercial industry with a fresh look at solving environmental problems by educating the customer. Allowing the customer to understand the problem and the solution, the customer is confident in the path forward. Over the years he has been blessed to surround himself with a team of like-minded, customer-focused individuals to provide the highest quality service to his community.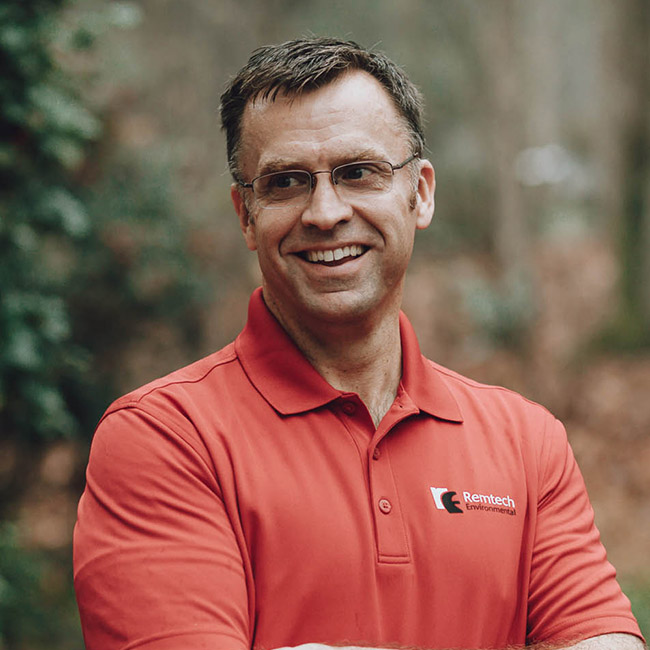 RUSTY ALLEN
Operations Manager
Rusty keeps the team running smooth and efficient. He oversees project scoping, estimating, and execution. Rusty is often the first impression to the customer as he arrives at a potential jobsite. With decades of customer service experience, a teacher's heart, and compassion for a tough situation, Rusty is often the customer's guide through the job. As an amazing swimmer, Rusty lettered in swimming at NC State. Rusty, his wife, and son live in Raleigh.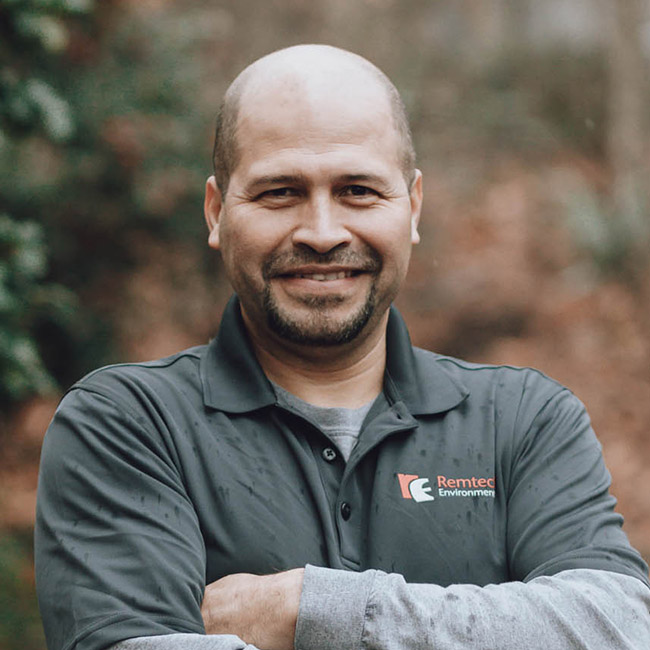 ALEX MURILLO
Supervisor
Alex is possibly the smartest person on the team. Problem solving and production are his top gifts to the team. He is also a senior member with many years under his belt. He and his wife are the official dessert makers of the annual Christmas Party. Alex, his wife and two children live in Raleigh.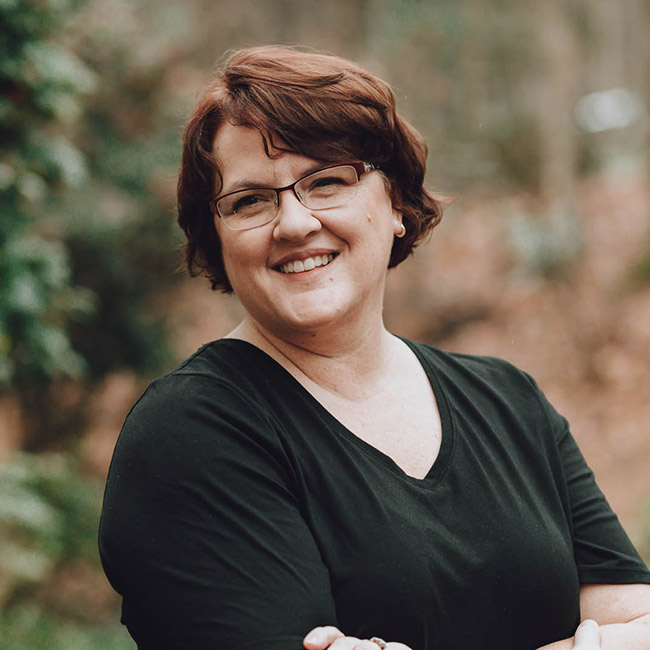 TERRY PHILLIPS
Accounting
Terry has been a part of the team for nearly 20 years. Most of the early years, she ran many if not all the functions of the business. Her unique perspective of all the facets of the business allow her to make the financial transactions run smoothly. Terry is also an accomplished flutist. Terry, her husband, and three children live in Raleigh.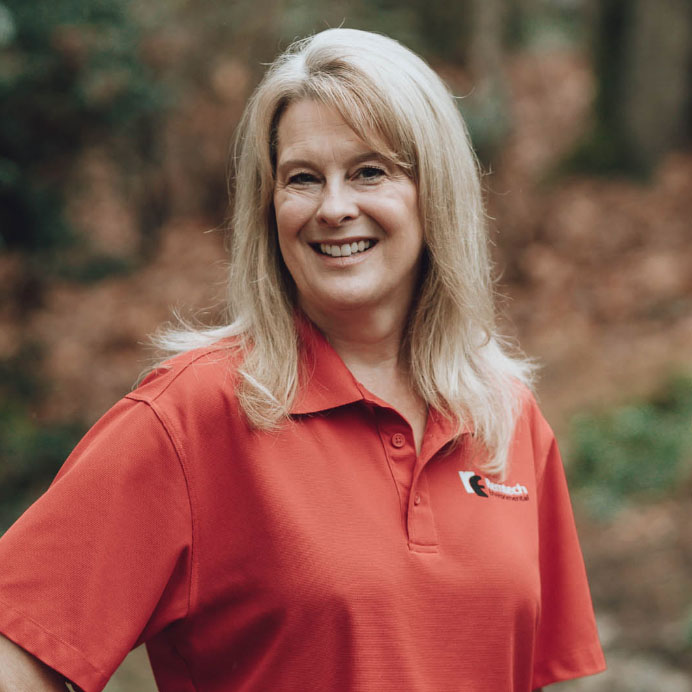 ANNE KING
Team Builder & Corporate Planning
Anne brings a background of chemistry, biology, and education to the team and provides guidance for building a better team through personal relationship building and corporate benefits. Gifted with a gentle spirit and generosity, she makes Remtech a place to grow and thrive. Anne lives with her crazy husband and daughter (two others grown and in college) in Wake Forest.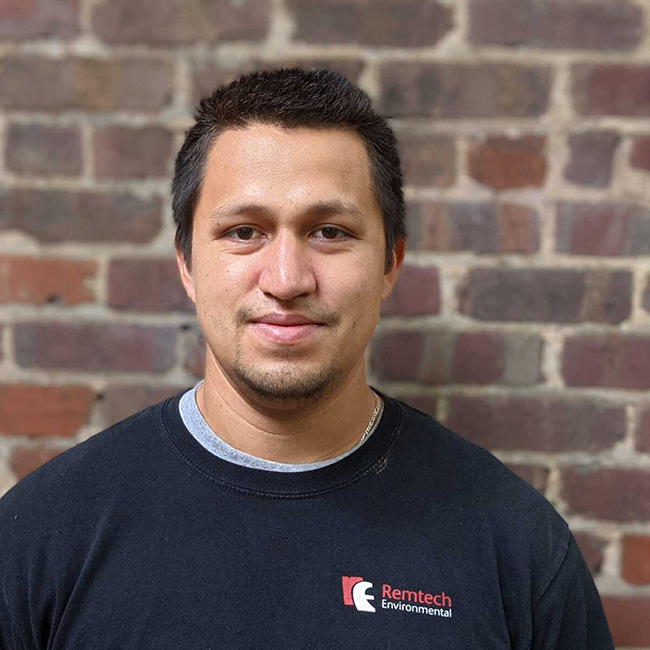 The homeowners that put their trust in Remtech:
We bought a new to us 1964 home last December and to no surprise, we had asbestos popcorn ceilings. We decided to remove the ceilings altogether versus just scraping them. To complicate things even more, we had a plumbing leak in a room that had previously been encapsulated, so we had to deal with insurance to cover a portion of the asbestos removal. Rusty and the whole team at Remtech were such a help from the first moment we spoke! They were responsive, flexible, and knowledgeable. They helped us get insurance what they needed. They even worked with us to do the removal work while we had to be out of town. Asbestos removal and dealing with insurance, especially as we were brand new to the home, was incredibly stressful. Working with Remtech was the opposite – they were helpful and easy to work with that I barely had to think about the work being done. It was a nice break for my brain! They also did a great job. We came home to a CLEAN house with no ceilings! While I'm hoping we never have to go through such a big project again, I know we'd be able to handle it because we can rely on Remtech.

Kelley Jonkoff


November 29, 2022

Very fast, professional and responsive. Did floor asbestos abatement for our house for a very reasonable price and they were very quick to schedule to keep us within our very close timeline.

Andre DeRosby


November 4, 2022

As a General Contractor specializing in Bathroom & Kitchen remodel, we complete in excess of 250 bathroom upgrades each year. Regardless of our remodeling and construction experience and capabilities, when it comes to addressing the unforeseen hazardous and environmental conditions posed by mold, asbestos, and lead paints, we have a responsibility to our customers to partner with the best abatement specialist possible, and as proficient in abatement as we are kitchen and bath remodeling. Remtech has proven to be that reliable and trusted partner for both our customers and company. We highly recommend the Remtech Team. Michael Kern COO – The Bath Shop

tbs vcita


October 21, 2022

A few months ago I used Remtech Envir. to remove asbestos from the ceiling of my home, and to this day I'm still amazed with their service that I've been meaning to write a review, and today's the day! The whole process went through so smoothly because of their professionalism, punctuality and care. At the end of each day I received an update from Rusty who was the project manager which was super helpful, and because of their expertise I knew the job was getting done correctly. There was a lot of asbestos to remove, and they showed up and delivered hard work to get it done within the time frame that was initially discussed. So grateful we used their services! I would highly recommend!

Margaret Pereida


October 17, 2022

Our church basement flooded and the old asbestos tiles curled up and had to be removed. Jeff Brewer came over to look at our problem, explained what they would do. He furnished a quote very quickly with a fair price. After checking with two other companies, Jeff's instructive conversation, ease of manner, willingness to help and a fair price won him the work. As a former contractor, I know how backed up companies can be in their schedule. He told us of a target time about 4-6 weeks off, which was fine. He called a couple of weeks later and had an opening in his schedule and wanted to come earlier. That was great. Their staff arrived on time and delivered a very quick, professional and clean project. This allowed us to our Fellowship Hall floored and back in operating condition prior to the start of the school year. It is a pleasure to work with a company that communicates well and delivers their service in a superior way.

Larry Shelton


September 16, 2022

I have spoken with Bryan on many occasions about growth strategy. He has always been open to communicate. I look forward to future conversations.

Harley Groff


September 6, 2022

Remtech came in and did a removal of asepsis when our home developed a leak and the sheetrock ceiling had to be removed. Got right to work, kept us informed every step of the way and did a great job of cleaning up. Would use them again in a heart beat!!

Tim Kaiser


August 15, 2022

The cost was higher than expected, so I did not move forward at that time. I will use Remtech when I amready to have the work done. They are very professional and take the time to answer any questions. The rep arrived on time, explained the process and provided the estimate. A very positive experience.

Greg -


July 18, 2022

Remtech was very helpful in abating asbestos at one of our facilities. They were communicative, thorough, and cleaned up thoroughly. They provided certification of satisfactory abatement at the conclusion of their work. I highly recommend their work.

Erin Donahue


June 21, 2022

Bryan was wonderful to work with. RemTech had professional and great work done as well as a fast response.

Becca Djuric


June 1, 2022

I needed to address some mold in my attic before it turned into a major concern and was very happy with all aspects of my experience with the Remtech team. I got a few quotes on the work and they provided the most thorough inspection, were willing to answer questions and offer pros and cons of a few treatment methods. They were all very professional - on time, courteous, did a great job keeping any mess out of the main living area, and performed quality work. I didn't have any issues the during the following cold / damp winter months and happy to recommend their services!

Dane Coalson


May 18, 2022

I was extremely satisfied with the asbestos removal project. I could see that the two gentlemen that performed the work were taking the necessary safety precautions. They were also courteous and professional, and answered additional questions I had about mold removal. I would highly recommend these guys!

Rod Chambers


May 3, 2022

Remtech personnel are professional and friendly. They perform quality work at a fair price. I give them my highest recommendation.

Pat Spencer


April 7, 2022

Asbestos referral for inspection and monitoring services. Excellent resource for asbestos services. Quick response. Professional services and cost effectiveness of referral. Follow up on referral services regarding services received.

Mary Smith


April 3, 2022

I am so grateful to Remtech Environmental for working with me to remove asbestos siding/shingles that had been in my basement for a number of years. I really appreciated that they came directly to my house, bagged and removed them. It was a huge relief not to worry anymore about how to dispose of this hazard waste. Very professional and responsive company. I highly recommend Remtech Environmental.

Lisa Giragosian


March 21, 2022

Provided timely responses to RFP's. Very knowledgeable on regulations. Provided cost-saving recommendations. Conducted themselves professionally on the job. High-quality outfit.

Daniel Walden-Turek


March 4, 2022

This was a very pleasurable business, Everything went smoothly and zero issues. They held true to their price even after the original quote deadline had past. Thanks for the great job!

daniel scott


February 23, 2022

I had two bathrooms with asbestos in the drywall. Rematch gave me an estimate, they sealed everything off nicely, did the removal, cleaned up everything and tested the site and it cost what they said it would cost and everyone went to bed happy. I wouldn't;t hesitate to use them again, should I find asbestos lurking in the walls, ceilings or floors of the older homes of this fair land.

Aeon Schmoock


February 19, 2022

Remtech tested and was able to identify an asbestos roof covering that was said to be slate. They were very responsive and thorough and got us an estimate to safely remediate the roof. I highly recommend Remtech for any testing or hazardous material or waste clean up! They are true professionals!

Heather Winters


January 23, 2022

The folks at Remtech were fantastic! Our popcorn ceilings were peeling in a few rooms and they contained asbestos. The rooms were sealed off, asbestos removed and the air purifiers ran until the inspectors gave the all clear. It was a 3 day process and we were very pleased with the results. Cannot recommend these folks enough!

Annie Perry


December 24, 2021

Bryan and Lou did a fantastic job removing the asbestos from one of my bigger projects. They were professional, timely and paid attention to detail throughout the process. Remtech made a challenging job look easy. I particularly enjoyed Lou's get it done attitude. It was great working with these guys.

Frank Geiger


October 15, 2021

Remtech has given us a new yard! In just a year our yard has gone from seemingly nothing but weeds to a yard full of grass. We could not be more pleased. Remtech is great with communicating a few weeks in advance about our service date and then they communicate the day or two ahead of service what we should expect. They clearly communicate when we need to water our lawn after treatment and how to cut the grass as well. I am so pleased with this service and business.

Ashley C.


October 9, 2021

Excellent team to work with on remediation projects. Great communication, flexibility, quick to schedule, and good value. We look forward to more successful projects with Remtech!

Pete Zseleczky


September 13, 2021

Remtech was a pleasure to do business with! Rusty was on-site for our first meeting early and provided the quote for asbestos abatement on time as promised. The crew did a great job and Sophia in Admin Support was most helpful. We will do business with them again!!

Phil Wheeler


August 24, 2021

I used Remtech Summer 2020 to remove/abate asbestos-containing popcorn ceilings and floor tile, along with drywall (apparently it is common for drywall mud before 1976 to contain a level of asbestos just over the EPA threshold.) They encountered a much-harder than expected floor removal but didn't charge me extra for it, for which I was extremely grateful. They left some plastic in bedroom closet ceilings that they forgot to remove and came back to remove it fairly quickly after I called to let them know. They noticed a broken square of glass in one of the exterior doors that occurred while they were working at the house and brought it to my attention before I noticed it, and took it upon themselves to have it repaired without me having to call constantly and wait forever wondering if they were actually going to fix it. They made the whole experience easy for me. From what I could see from the outside, they took all appropriate precautions with negative air machines and plastic protection etc. I would recommend them if you have abatement work needed.

Sarah Deck


August 2, 2021

Outstanding service by REMTECH in general, and Randy and Erik in particular. Extremely responsive, very professional. Highest recommendation.

Robert F. Moore


July 30, 2021

Remtech Environmental encapsulated our crawl space, installed a dehumidifier, and professionally cleaned our HVAC ductwork. They did an excellent job and our home feels and smells so much better since the work was done. Highly recommend.

Joshua Thomas


July 14, 2021

"Very respectable, job done exceptional well. Would recommend for anyone. Will be using them again.

Barbara


May 28, 2021

Dusty and his team were great. I really appreciated the thoughtfulness, professionalism, and transparency throughout the process. We had some mold services and crawlspace encapsulation done. Dusty even took care of some lingering noise issues coming from our new dehumidifier himself, which was awesome. Thank you!

Varun Namasingh


April 2, 2021

Bryan and his crew have been very good to work with over the past few years. They are always punctual and the communication has been great.

Brian yates


February 5, 2021